by K.T. Kumaran
"No enduring solutions to society's most pressing problems can be found without the full empowerment and participation of women," says Thoraya Ahmed Obaid, Executive Director of United Nations Population Fund, in her tribute to women around the world marking the March 8th, 2006 Women's Day.
Amidst the overall UN message emphasizing the importance and calling for attention to the issues on Women's Day, fundamental single issues seem to dominate in every country and society. Such as female foeticide and dowry related matters in India to rise of women LTTE cadres, a tensed situation in North-East Sri Lanka and unfair lobour conditions of large number of garment workers and overseas domestic workers in Southern Sri Lanka.
While there are social-domestic aspects on one hand, urban areas and the working world grapples with gender issues and work place equalities; in war ravaged North-East Sri Lanka, mounting basic human rights problems plague all segments of society, but particularly for women they have become life and death issues. As mothers fearing for the life of their children and as women to venture for their daily chores under the clouds of war.
Sri Lankan parliamentarian, Pathmini Sithamparanathan of the Tamil National Alliance (TNA), visiting the United States last year commented on the presence of 40,000 Sri Lankan forces in areas under the control of GOSL and the safety and fear of women in those areas.
The TNA MP spoke of her involvement in a Theatre Action Group (Aranga Seyatpaattu Kuzhu), hosting artistic plays, events and interactions around many Tamil speaking areas of the island. They were successful in creating imageries and found women to have more than forty odd fears. She said the group found out that the greatest fear in many women was fear of sexual assaults by the Sri Lankan military which held them back from venturing on their day to day activities. The women were afraid of sporting twin plaited hair and being dark in complexion; because these may be a cause for suspicion by the security forces, that these women are undergoing training to be LTTE cadres.
[First female martyr Malathi's statue on Kilinochchi junction. She got injured in direct fighting with the Indian Peace Keeping Force, lost her leg – swallowed cynade capsule and sacrificed her life in Kopay, on 10th of October 1987 at the age of twenty. Since then, this day is celebrated in LTTE controlled areas as Tamil Eelam Womens' day.
Picture Courtesy of: Martyrs Day 2005 ]
But the real female fighters of the LTTE too face their fair share of controversies surrounding their enlistment. While they cast as a symbol of the emancipated Tamil woman, who has taken her place in the trenches alongside men as an equal in the war for the liberation of the Tamil state, some in the feminist movement question the militarization of women. Radhika Coomaraswamy, then the United Nations Special Rapporteur on Violence Against Women, pointed out that it flies in the face of the humanism, non-violence and the "celebration of life over death" that are the foundations of the feminist movement the world-over.
However, the voice of Mother's front and other Women's organizations seem to have been somewhat sidelined and overshadowed in the human rights situation in North-East and the current peace process.
Devaki Jain, Indian Economist and a Panelist at the 2006 Women's Day celebrations at the UN has said that from as far back as the early part of the last century, " women out of their lived experience as well intellect, as well as something that we could call the ethics emerging out of lived experience, – whether it was Elise Boulding in the United States or Alva Myrdal in Sweden or Mothers for Peace in Sri Lanka or Lysistrata of ancient Greece or Swanee Hunt – have not only been standing for peace, but women have been explaining why it is important not to wage war but to find ways of overcoming, negotiating, resolving, dissolving conflict."
Giving women groups greater participation, true voice, access and empowerment is what the "shot in the arm" the Sri Lanka-LTTE peace process maybe needing at this critical juncture.
Apart from a disproportionate number of women and children losing their lives to the roaring waves, the needs of surviving women were overlooked in the aftermath of the tsunami too.
According to Pathmini Sithamparanathan, MP, many relief programs were carried without consultations and input from women. Roofs were built without proper ventilation for smoke from cooking to escape. Relief supplies were given to women without a consideration whether they are useful for them to make a living. Nets were handed out to widows, who will not have means to go out to the sea.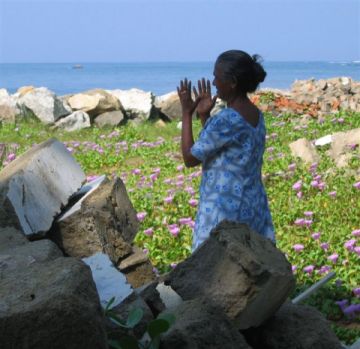 [Fifty three year old Lily Nona Galmangodaguruge lost her daughter, grand daughter, mother and sister in the 2004 tsunami. She says that she is not blaming the sea for what has happened, instead she is blessing the sea.
Picture Courtesy of: HA Dec 26, 2005]
An Op-ed article, questioning whether the International Women's day in Sri Lanka has lost its intrinsic value, vividly explains the status of women in many other aspects of Sri Lankan life.
"One wonders whether in Sri Lanka Women's Day has any intrinsic value. It has often become just another day for celebration, with seminars and discussions which often have little or no relevance to the real issues women in this country face", says Manel Abhayaratna in the "Daily Mirror".
Writing further she adds " Women are the highest foreign exchange earners in this country, they account for over 52 % of the population and women form the larger component in the institutions of higher education. We tend to boast of the fact that we have had the world's first woman Prime Minister but we do not have even a 2% women's representation in Parliament or in the Provincial or local government institutions. Moreover the very few women politicians we have are divided in their political loyalties and appear unable to provide a common front to promote or safeguard women's issues. Neither have we shown any concern that women who have gone for foreign employment often as domestic aides and provide the largest component of foreign earnings to the country have no chance to decide on the political leadership of this country.
[Priyangani Perera makes her livelihood by painting iron beds, cupboards, chairs and tables. She is a single mother of eight-year-old Sewanthi. Priyangani lost her husband in 2002. He was hit by a bus in frontof her eyes, and died on the spot. Each day she gets up at 5.30am ,and works until midnight.She earns Rupees10/= for painting a bed.On a good day she can earn Rupees 500/=. Other days she is left with nothing. Her father and aunt are living in the same house. Priyangani has to support the whole family. Priyangani wants her daughter to become a doctor
Picture Courtesy of: Life along the Railway Track]
No one appears to be concerned about their voting rights, violence against women continues, and rape is almost common place .In many households, often though husband and wife are both employed, domestic chores are yet considered as the women's duty .Empowerment it is stated is both a process and a result that cannot be achieved by any individual or organization for some one else. A woman can only empower herself though other agencies could support her in her journey for recognition.
However in the final analysis, empowerment of women comes from the woman's total recognition of her role not only in the economic sphere but in the social, and cultural life of the community.
And in this context the role of the woman should exemplify her value as the mother, the home maker ,the guardian and format or of moral and traditional values, and accord to her the credit and recognition of combining these diverse roles," says Manel Abhayaratna in the "Daily Mirror".
Amen to that!
Encouraging greater dialogue within societies, communities and families, between women and men and between young and old, on this Women's Day, Thoraya Ahmed Obaid Executive Director of United Nations Population Fund says in her salutation that, "Progress for women is progress for all. Women are not only life givers. They are peace builders and must play a full role in conflict resolution and recovery. They are workers, even though their work is often undervalued and underpaid. They are the backbone of families, communities and society, even though their multiple roles are not often recognized or appreciated. Yes, women are different from men but this difference should be celebrated along with the recognition that all human beings are created equal in dignity and rights and should be afforded equal opportunity and legal protection."
Statement by UN Heads of Agencies, Sri Lanka, to celebrate International Women's Day 2006: "Women in decision making: Meeting challenges, creating change"